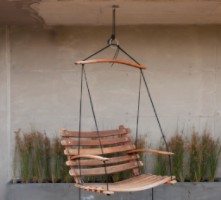 Swing Chair
£340.00
Sold out
Made from reclaimed oak wine barrel staves, White yachting rope. Sealed with an indoor polywax sealer. Includes additional 5m rope for hanging.
Conveniently flat packs for economical shipping & transporting.
Size: Approx. 920mm w x 1000mm d x 700mm h. Widths are dependent on varying barrel sizes & ranges roughly between 800mm to 1m.